A Better Way to Enhance and Organize Your Home
Eliminating your stress and helping you stay organized one quality solution at a time.
Calm Your Chaos with Custom Solutions to Transform Your Home!
It's frustrating when you can't get to things in your kitchen cabinets, pantries, closets, bathroom vanities—and the list goes on. It takes forever to get ready in the morning because you are sifting through your messy closet and cluttered drawers. Why deal with all that wasted time and space when you could transform it into an organized and stress-free area?
Reduce stress and maximize your storage space with our custom-designed, professional cabinet enhancements and wall-to-wall systems. Save time and money by investing in quality storage solutions.
How We Increase Your Space and Reduce Your Stress
Slide to See Before and After
Custom Storage for Existing Spaces
Bring your space into light with our slide-out shelves. Installed in your existing cabinets, they make it easy to find what you're looking for and keep everything organized.
We can increase storage space for:

Closets & Pantries
Kitchens & Bathrooms
Existing Cabinets & Vanities
Entertainment Centers
Laundry Rooms
Craft Rooms

Anywhere you need better storage
Let us help you get organized today!
Slide to See Before and After
Custom Designed Storage Systems
Designed specifically for your needs and space, we help make your life easier by transforming your:

Closets
Pantries
Garage Workstations
Home Offices
Craft Rooms
Laundry Rooms
Other Living Areas
We take pride in crafting our products sustainably in the United States, utilizing thermally fused laminate. Our custom systems provide valuable, easily accessible storage solutions that are built to last.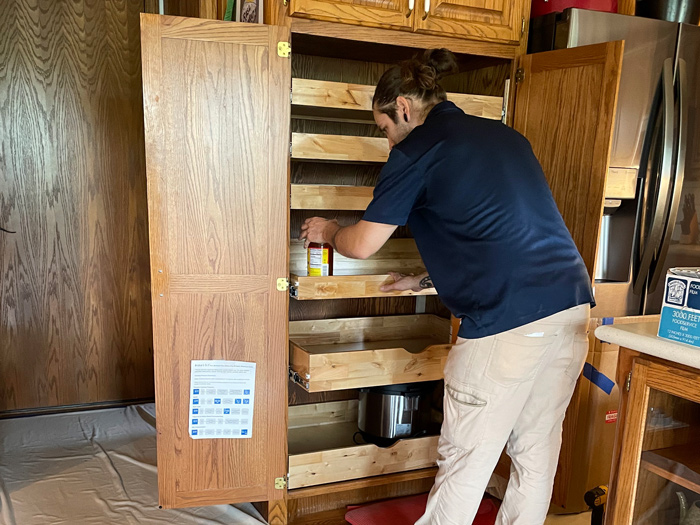 Expert Team of Craftsmen
Our team provides exceptional customer service, high-quality products, professional design, and expert installation. We deliver the highest quality workmanship to help make your home organized and stress-free.
Not only do they install our custom storage solutions, they also offer home repair services like:
Grab Bars

Light Fixture Replacement

Drywall Patches

Replacing Damages Sections of Siding

Fence Repair

Door and Hardware Replacement

Backsplash Installation
Have a DIY project that didn't turn out well? We can help fix that too.
Extraordinary Service Promise
It's more than just words, it's a guarantee.  Harmony Home Concepts takes the utmost care to protect your home like we would our own. We work with you to find the solutions that best fit your needs and help eliminate stress.
We will always:
Listen to you to determine your specific needs and wants.

Keep you informed and updated throughout the entire process from consultation to post-installation follow-up.

Stand behind our products and workmanship.

Use drop cloths wherever our installers will be working and walking.

Make sure floors are covered and protected.

Clean up after ourselves.

Show respect for your home, pets, and property.
All projects are completed by our background-checked and drug-screened employee craftsmen.
We are a licensed contractor, bonded and insured.
Phil and Shelley Davis,
Owners of Harmony Home Concepts
Quality Work Creates Happy Customers
"It has been six months since my shelves were installed.  I am still thrilled every time I use one as I no longer have to stand on my head to see what's on my lower shelves. I absolutely love them. The employees were extremely friendly and professional, and the shelves are very high quality. Thank you, Slide Out Shelf Solutions."
– Lyn V
"Great company to work with. Phil and Shelley are great communicators. My installer was very nice and did a great job. I'm still playing around with my new storage. Cleaning out to get ready for the installation made me realize I needed to get rid of half of my stuff. Now instead of storing things I don't use very often because it was hard to get to, I can store stuff that I use every day. Best customer service ever and guaranteed work as long as you own the home. Drawers glide so easy."
– Kay B
"I don't know how I cooked in my kitchen for so long without these amazing slide-out shelves. I can actually get to every pot and pan, every spice and baking ingredient, and all the canned goods! A dream come true. Phil was so knowledgeable about the design aspect. The installation crew was amazing! They were professional and kept everything so clean. I highly recommend this company. Everything was beyond expectations! I feel like I can keep cooking without struggling to reach things."
– Hazel A
"The whole process was seamless and it was such a pleasure to deal with a professional staff from the owner to the installers. Courteous, knowledgeable, respectful, and prompt. It's rare when you encounter a true customer satisfaction-oriented organization and Phil and his staff are just that. Highest recommendations and you can't go wrong with this company."
– Frank V
Beautiful Spaces
View our gallery to see how we're giving our customers effortless access to their storage space. About Harmony Home Concepts
Helping Homeowners Love Their Homes Since 2005
Local business, family-owned and operated by Phil and Shelley Davis and their daughter Kaylee Thompson. They began as a franchised professional handyman service in 2005. After 10 years of learning through a franchise system, they formed their own professional handyman service – The Best Home Guys. This expanded to include slide out shelves and custom storage systems for the home. Phil Davis is a Certified Aging in Place Specialist (CAPS) and has the tools and resources to make staying in your home a forever possibility.
Phil and Shelley are both native Wichitans: Phil graduated from Southeast High School and Wichita State University, while Shelley graduated from Goddard High School and earned her master's degree from Friends University, with an endorsement from Fort Hays State University. Their daughter, Kaylee Thompson, graduated from Valley Center High School and Friends University.
Ready to Take Back Your Space?
Call us at (316) 712-6060 or use our contact form to discover how we can help you get the most out of your storage space.